The Importance of Properly Tracking KPIs
Goals and KPIs are among the most important parts of your SEO strategy, yet one of the most commonly overlooked areas.
Without KPIs, you will not be able to effectively track your campaign's progress and ensure that your efforts are paying off or determine if you are on the right track towards success.
It is no hidden secret that SEO takes time to deliver results and returns, but by setting KPIs (key performance indicators), you can be in a better position to demonstrate the impact that your strategy is having on business.
They can also help you to manage expectations with other stakeholders. SEO KPIs should form the basis of your strategy and act as a way to both measure and report on success and progression, but you need to know what you should be measuring. 
In the guide below, I will help you understand the most important KPIs you should be using.
Specifically, we will cover:
12 SEO KPIs You Need To Track
It can be confusing to know which KPIs you should be tracking to see a regular snapshot of how your SEO campaign is progressing, so we have rounded up 12 that we think are essential to keep a close eye on.
These are metrics that give you an overall view of how your efforts are paying off, allowing you to demonstrate the impact you are having while also spotting any issues before they turn into problems. 
Further reading: Essential Marketing KPIs for Agencies and Businesses
1. ROI
For almost every business, an SEO strategy's ultimate goal is to drive a return on investment. And whether that is an investment into an in-house team and resources or an agency, that means seeing more money back than you spend.
Tracking ROI from your SEO activities is crucial for the simple reason that it is the best measure of success that there is — more money in the bank than you are spending. But remember that it can take time to see an ROI, often six to 12 months or more. 
Know where your ROI target is, and you can measure your performance against this on a regular basis, understanding and reporting on how it is improving.
You can measure ROI based upon your investment into SEO, and the revenue returned from the channel.
2. Conversions (Sales and Leads)
While a financial return is the overarching KPI that many businesses work to, it inevitably takes time to see returns. And for that reason, you shouldn't rely on ROI alone. 
Measuring and tracking organic conversions (either sales, leads, or both depending on your business's set up) is a solid way to demonstrate success. After all, an increase in organic conversions can easily be attributed to your efforts. 
Just be sure to know the conversion benchmark before you begin working on a campaign; otherwise, you will find it harder to showcase the increase from what was already being generated.
A recommendation is to take an average of conversions generated in the three months before your campaign began and use this as a benchmark for measuring growth. 
You can track conversions in Google Analytics, measuring goals for lead conversions and the eCommerce report to track sales by channel. 
3. Organic Visibility
Coming back to the point that it takes time to see financial returns from SEO, one solid KPI that you can track and measure to show consistent growth is organic visibility. And you can measure and report on this in two ways.
First, showcasing growth in impressions from Google Search Console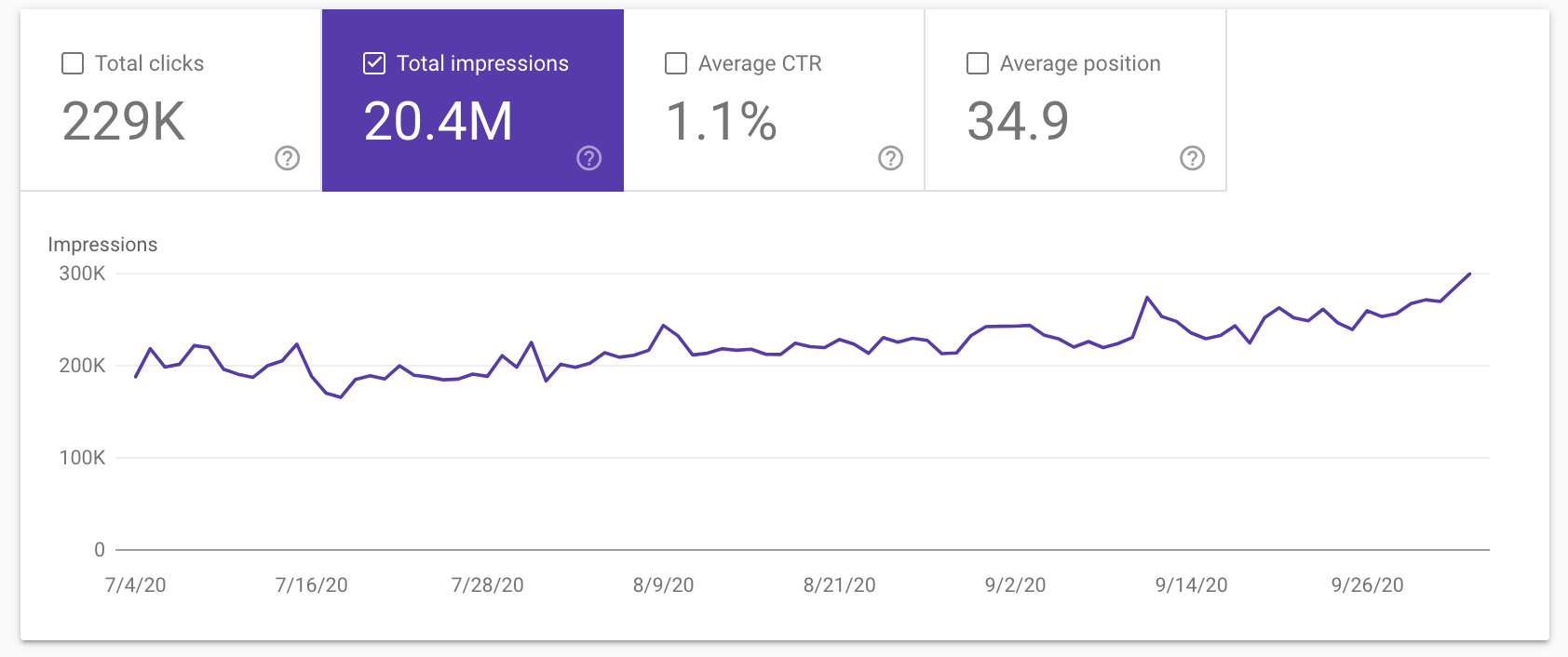 This is the perfect way to show continued growth in visibility, given that impressions show the searches that your site was visible for, even if they didn't result in clicks. Typically, that is because you see an increase in ranked keywords, but these aren't in traffic driving positions (yet).
Either way, an increase in impressions shows an increase in organic visibility and a great measure of continued growth. 
You can also show an increase in organic visibility by looking at keyword trends in the Organic Research tool in Semrush, where you can see how your visibility has changed for all indexed keywords, including those in lower positions. 
4. Organic Sessions
Growth in organic impressions should result in an increase in organic sessions, and this is where you can start to demonstrate a real impact from your SEO strategy.
Once your efforts are taking effect, one of the key metrics that you will see an impact on is organic sessions (traffic).
Impressions result in traffic, and traffic turns into conversions; and when you look at it this way, seeing an increase in organic sessions is the point at which you truly start to notice an improvement in your SEO ROI.
Measuring organic sessions is really simple to measure in Google Analytics. But, for the purpose of tracking SEO KPIs, we recommend focusing on data from Google Search Console, as this will allow you to exclude brand searches and view organic clicks for non-branded terms in isolation.
This is important to ensure your data isn't being skewed by brand activities that are driving an increase in branded searches.
To do this, head to the Performance report and hit the +New button at the top of your screen where you can choose to filter out your brand by choosing 'Queries not containing.' Enter your brand name (and variations of), and you will see how non-branded traffic is performing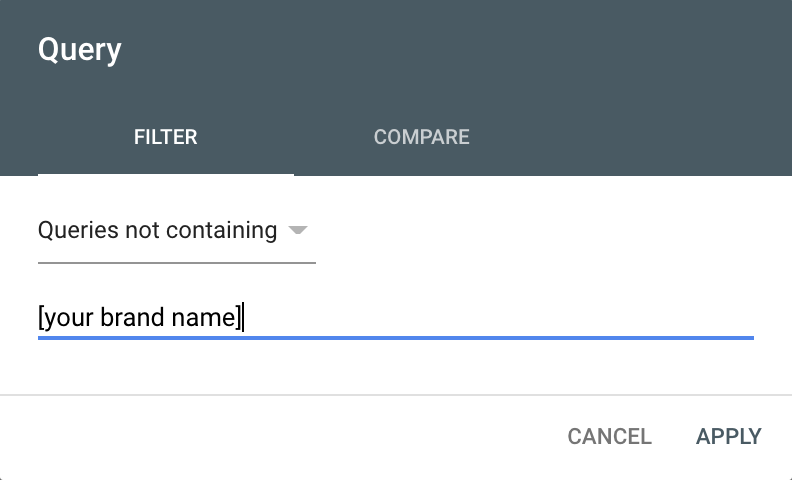 A key thing to pay attention to when analyzing organic sessions is seasonality, making sure you are comparing Year on Year rather than Month on Month to compare like for like and accounting for any seasonal fluctuation in demand. 
To do this, hit the date bubble at the top of your screen, choose 'compare', and select your preferential period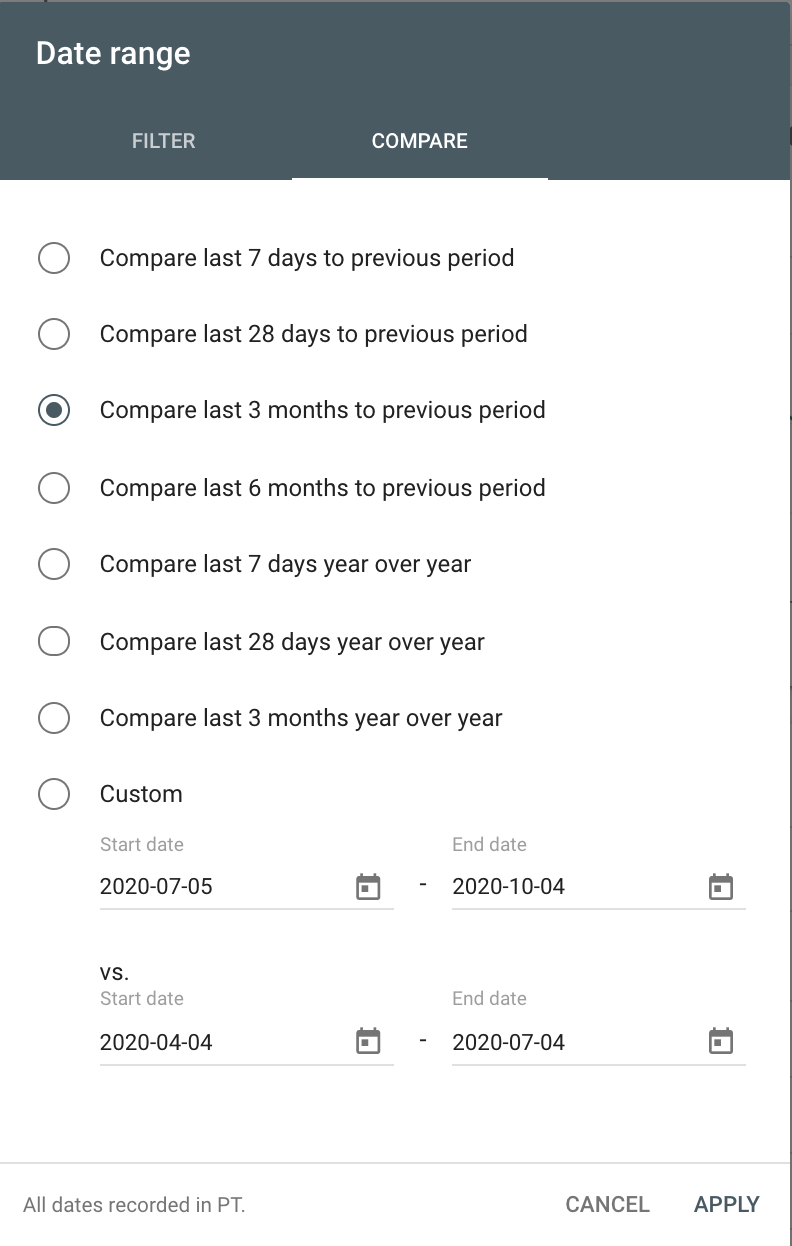 5. Branded vs. Non-Branded Traffic
While you want to exclude branded searches to analyze the true impact of your efforts on organic traffic, another key measure of success and progression is a shift in the percentage split of non-branded traffic that your site is receiving.
Branded traffic is usually driven either by previous knowledge of a business or a recommendation from someone else. Maybe a searcher has seen your ads on social media, seen your latest PR campaign, or even met you at an event. What's important to note here is that the searcher already knew about you.
While that clearly means one marketing channel is working well, this usually isn't going to be traffic that you can attribute directly to your SEO activities.
Non-branded traffic is usually people searching for keywords around your products or services that you rank prominently for. In other words, traffic from searchers who probably weren't familiar with your business before they saw you ranked on the SERPs.
And you should be measuring the split of branded vs. non-branded traffic, something that you can easily see using Semrush's Organic Research tool:
6. Keyword Rankings
While keyword rankings may not be as important as some of the other metrics mentioned here, they certainly have their use, and we strongly recommend that you track how your main target keywords are ranking on the SERPs.
If we look back even five years, rankings were how pretty much any SEO campaign's success was measured.
So then, what changed? Semantic search. 
In the past, most businesses tracked a handful of keywords and hinged their strategy's success on that; the reality is that nowadays, a single page of content can rank for hundreds (sometimes thousands) of different keywords. And that is not forgetting personalized search — meaning that different searchers can see different results for some queries.
Let's look at an example of different keywords. The Positions report in the Organic Research tool lets you see the keywords that a page ranks for. For example, at the time of writing, this article ranks for 79 keywords. Just look at the variations: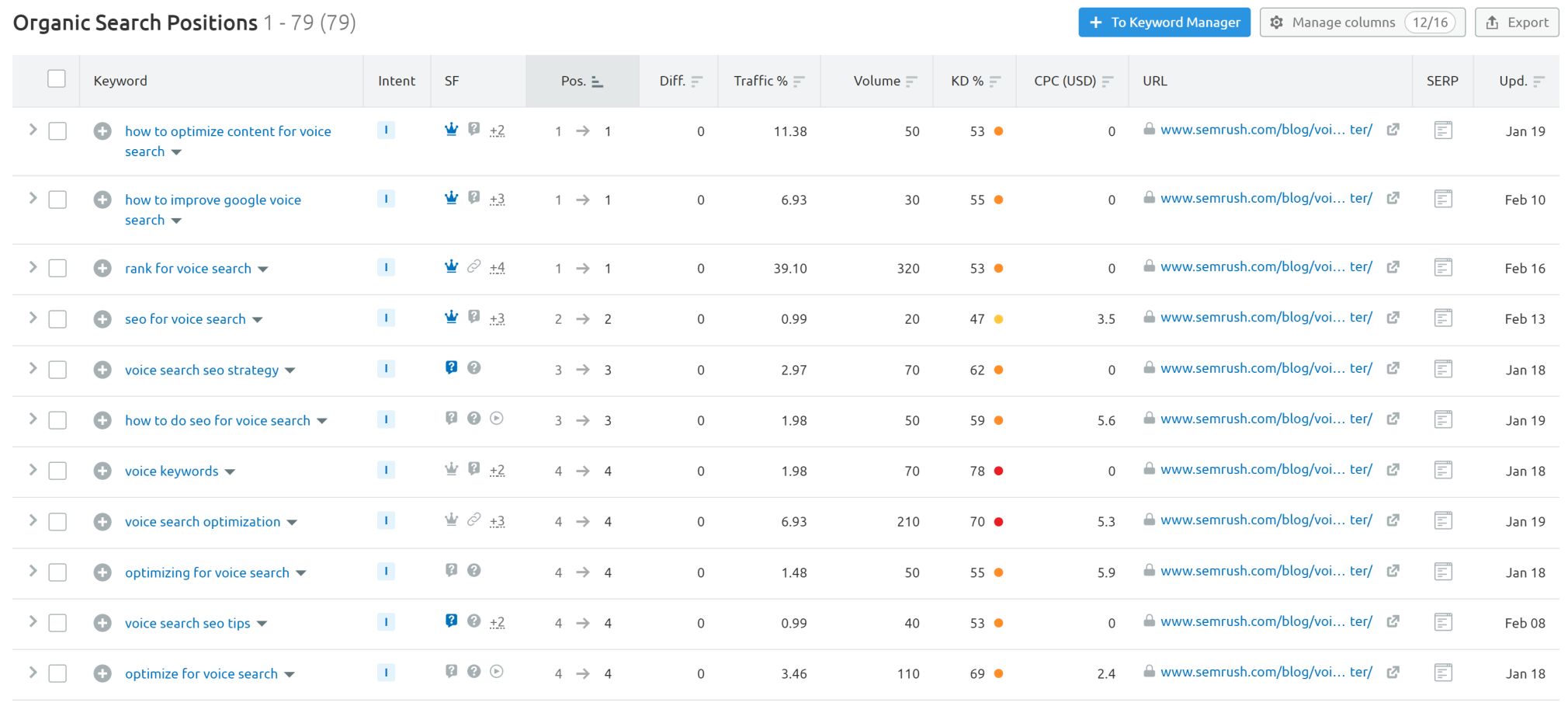 Keyword Tracking
Tracking keyword rankings isn't quite the measure that it once was, but it is still hugely useful to show progression. After all, seeing your primary keywords increasing in rank ultimately means that your strategy is starting to pay off.
You can use the Position Tracking tool to keep track of how your main keywords are ranking on the SERPs.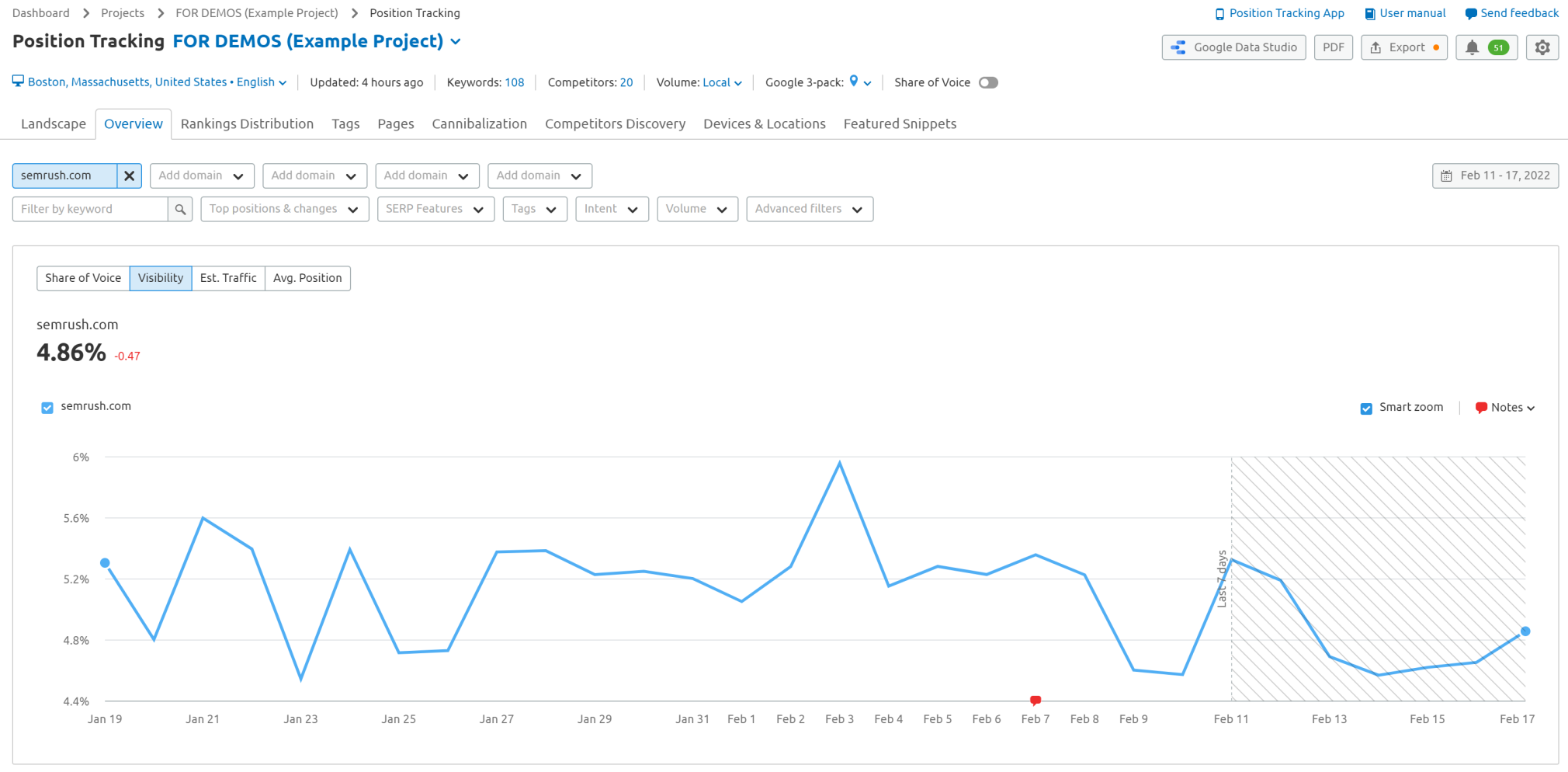 7. Backlinks
Backlinks are one of Google's top ranking factors, and there is no sign of that changing any time soon. You need to know the current health of your link profile, both in terms of gaining sight of any new links you are earning, as well as any issues with toxic links that appear.
The link metrics that you should be measuring are:
Total number of backlinks
Total number of referring domains
Number links lost
Number of links earned
You can track all of these with Semrush's Backlink Analytics and Backlink Audit tools.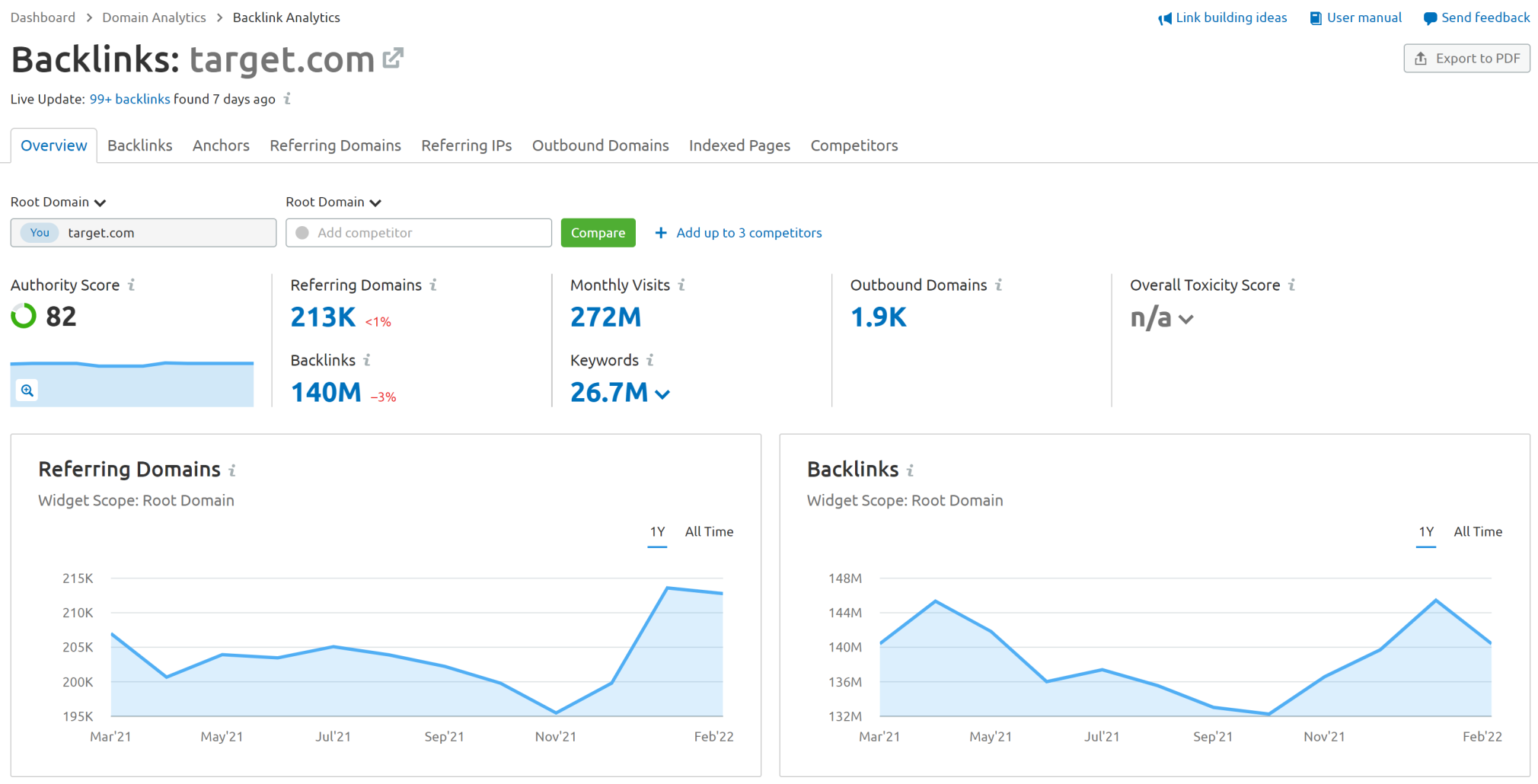 But in isolation, these don't mean as much as they could, as you are not viewing the numbers in context. You also need to be comparing your own link profile to your closest competitors, and again, you can do this by running their domains through the tool.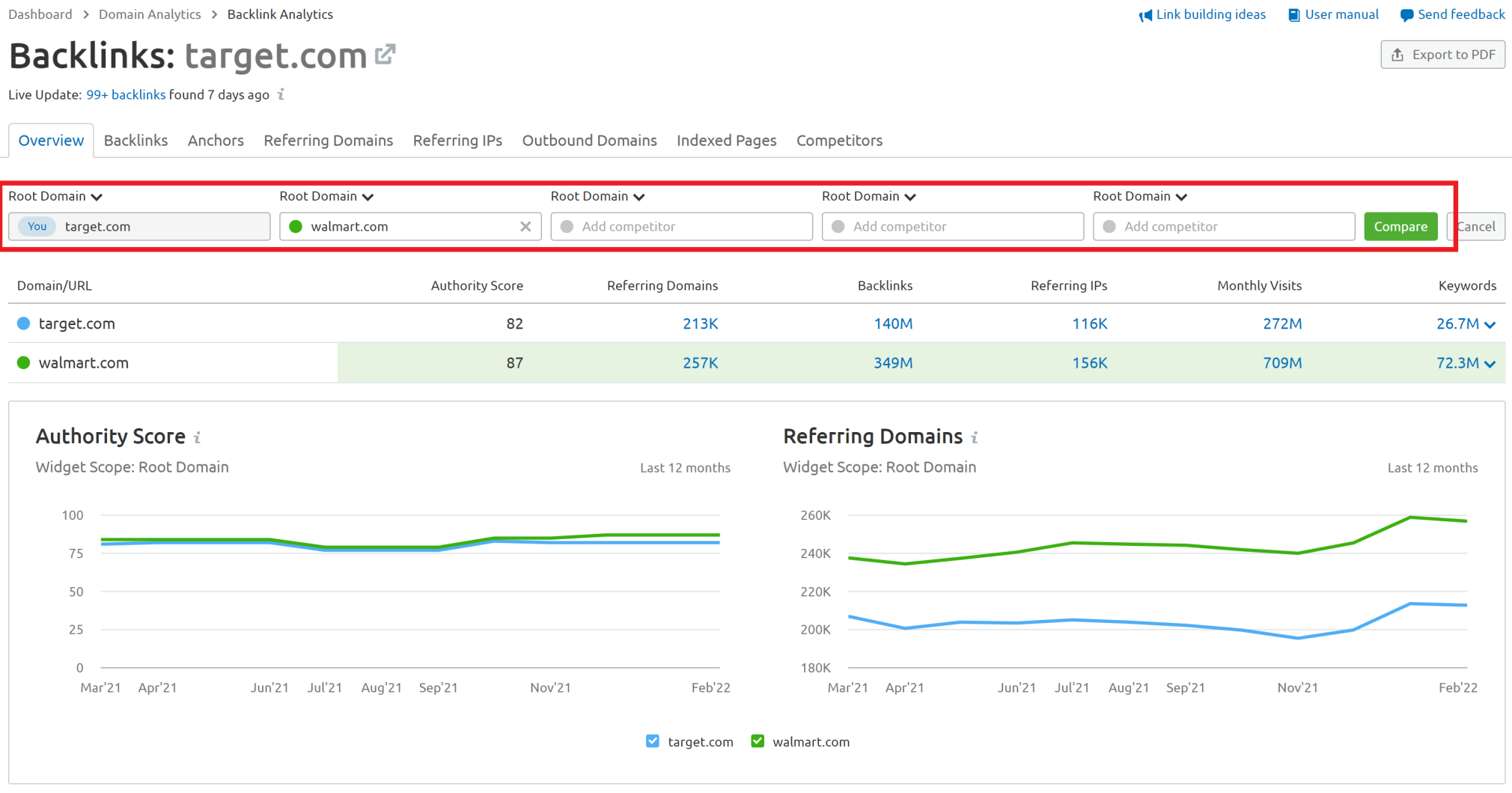 8. Organic CTR
CTR (click-through-rate) is used as a ranking factor, but the reality is that the better your organic CTR, the more people are clicking on your listing on the SERPs.
You should be tracking this, both at a page-level and a query-level. 
CTR is a simple metric that shows the percentage of people who click on your page after their search triggers an impression — the higher, the better.
Where organic CTR becomes really important is in helping you to determine how relevant your title tag and meta description (the elements that show on the SERPs) are in relation to a given query.
Again, this needs context, and the average CTR each position can expect to receive is: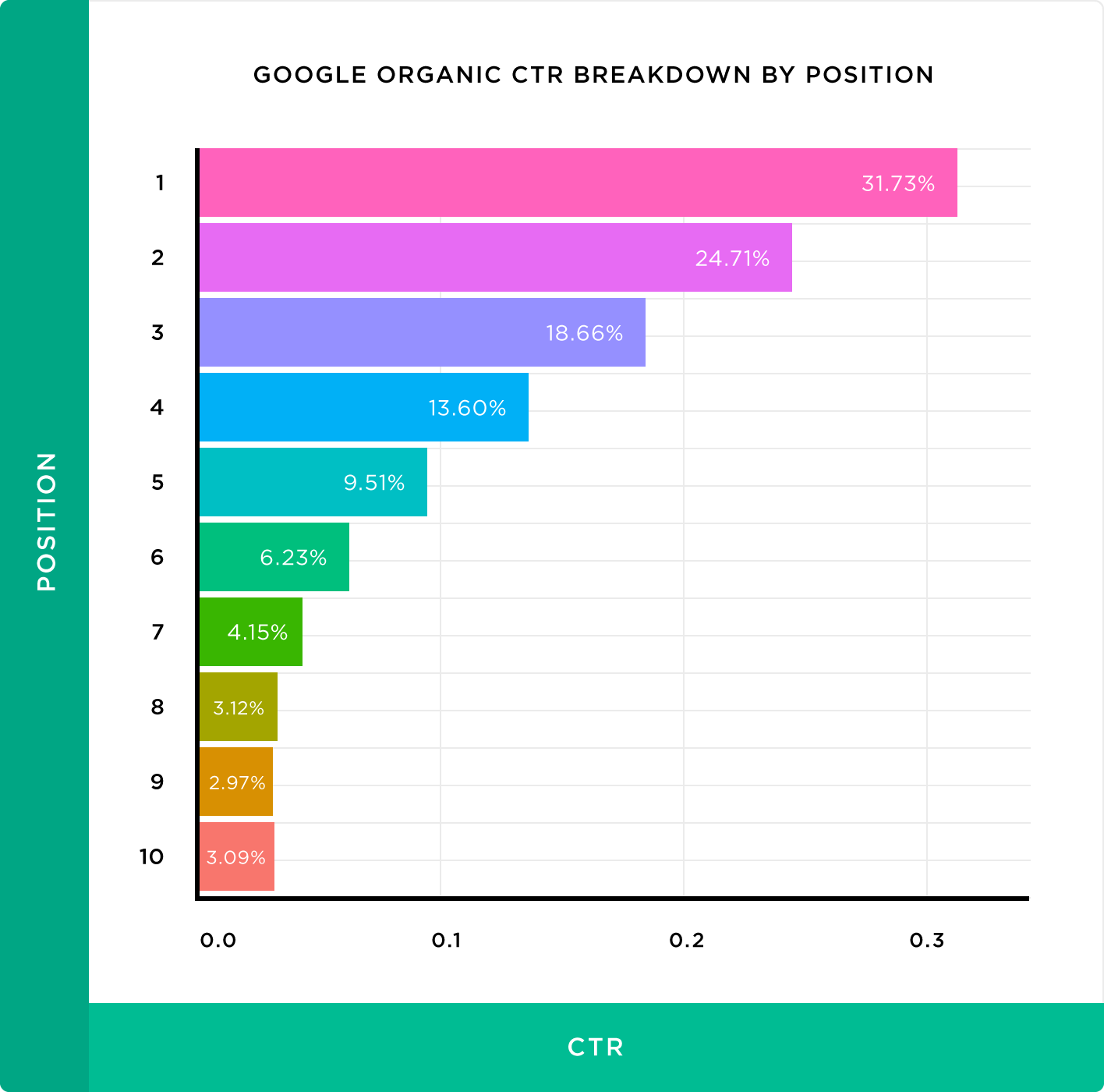 Source: Backlinko
Compare your own CTR to this, and you will quickly see whether you are outperforming the average or have work to do. 
You can analyze the CTR of your own pages and queries in Google Search Console under the performance report.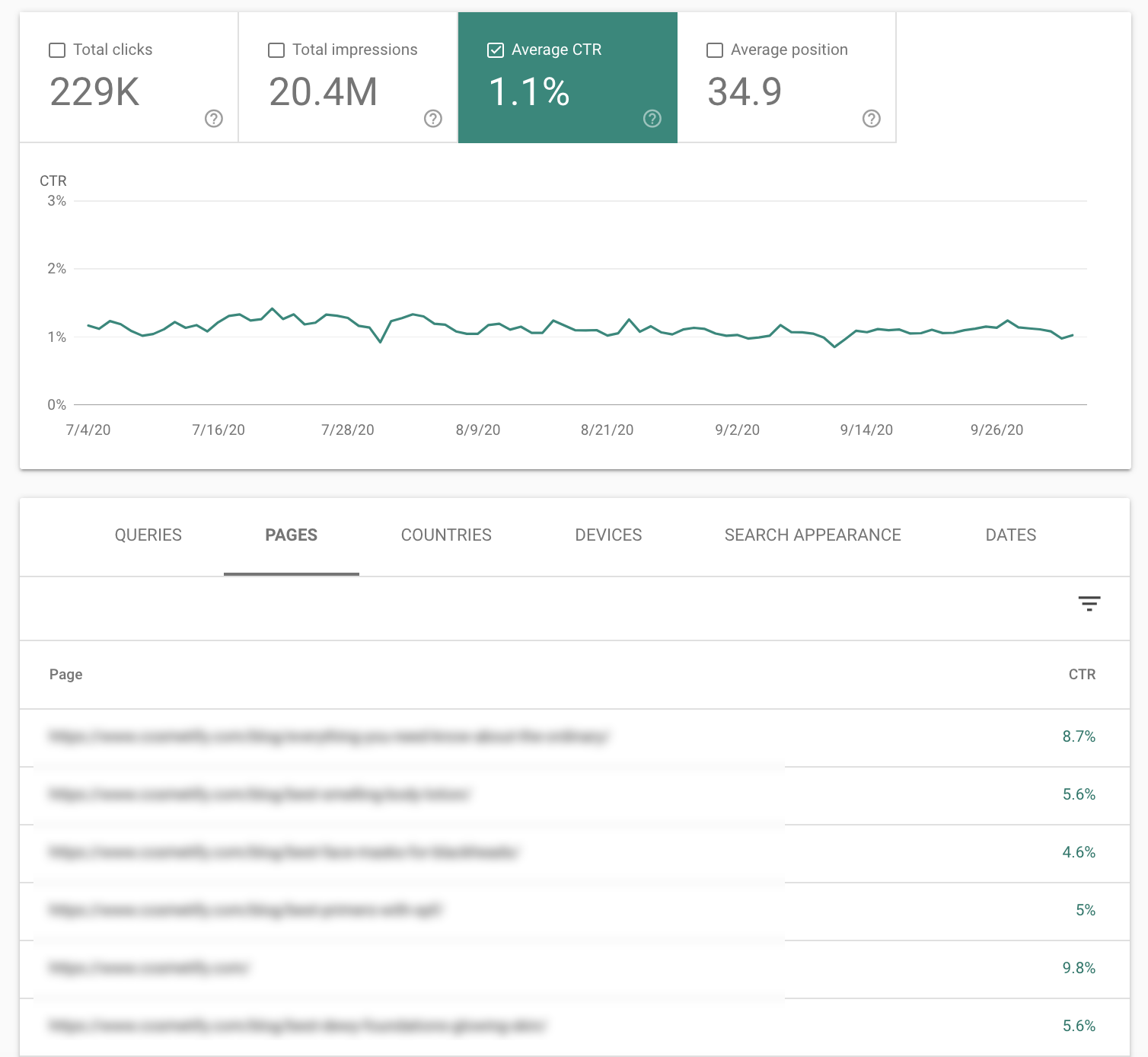 9. Bounce Rate
Bounce rate is an important measure of whether your content is engaging those who land on the page and can also be a great way to understand how relevant it is to the search queries that it is ranking for.
A high bounce rate typically means that the page isn't capturing the attention of users, meaning missed opportunities to turn this traffic into conversions. And sometimes, it only takes small changes to see a noticeable improvement, but if you are not regularly tracking it, you might not spot the opportunity. 
You can see the bounce rate of your site and pages in Google Analytics under Behavior > Site Content > All Pages.

10. Average Time on Page
The longer a user spends on a page, the more engaged they are. And the more engaged someone is, the higher the chance that they will convert.
So, you need to be measuring the average time on page for your site, both on a sitewide and a page-level basis, and consider ways to increase this if you see low durations.
You can track this in Google Analytics under Behavior > Site Content > All Pages.
11. Coverage Issues
Once referred to as 'crawl errors,' Google Search Console allows you to analyze any coverage issues your site suffers from.
And typically, these include
5xx server errors
4xx errors 
Crawl anomalies
Noindex pages
Crawled – currently not indexed
Discovered – currently not indexed
Duplicate, submitted URL not selected as canonical
Blocked by robots.txt
+ More
Regularly tracking these issues as a KPI can help you to stay on top of things that could hint at wider crawling or indexation problems. 
They might not be a true measure of success, but keeping errors to a minimum should be one of your key objectives to ensure that all of your pages that should be indexed are. 
Find these under Index > Coverage in Google Search Console.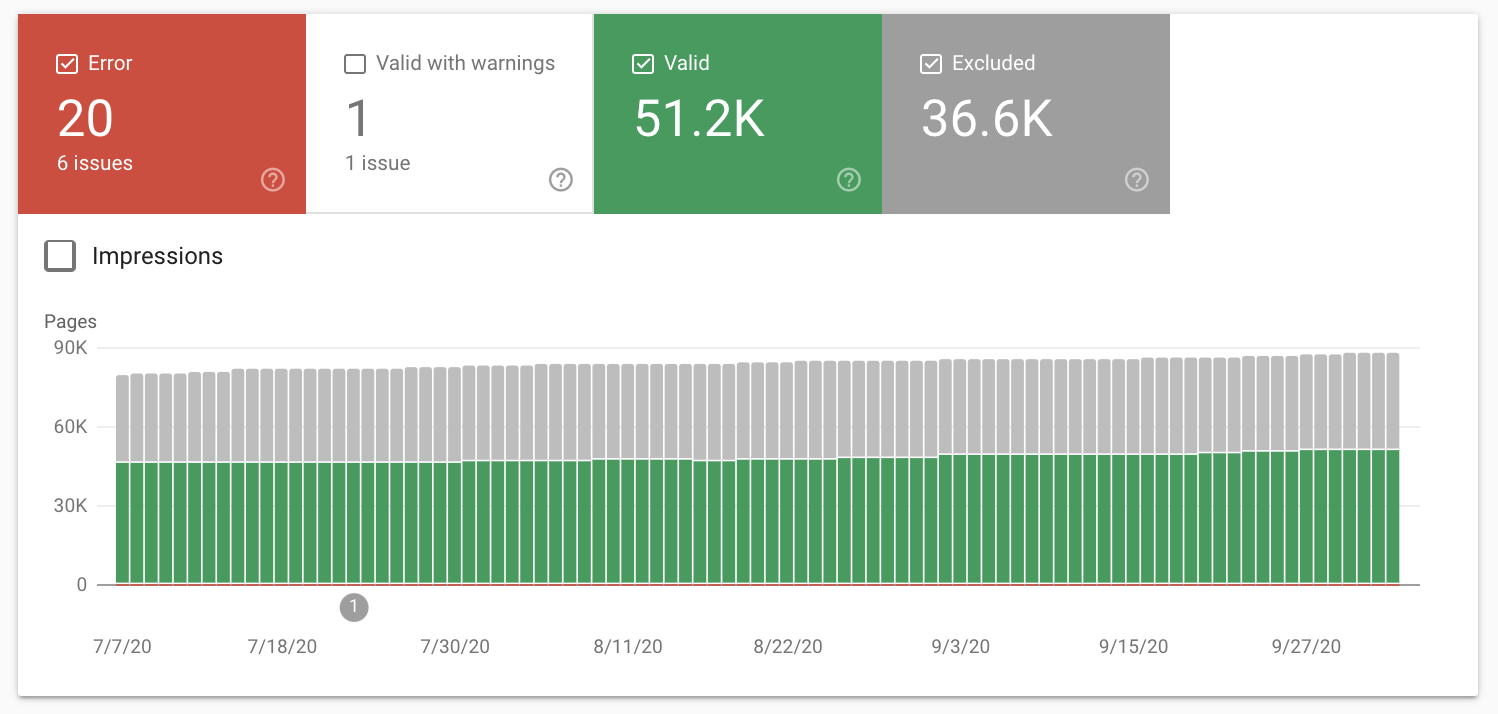 12. PageSpeed
The speed of your site is something that can negatively impact both your search rankings (and resultant traffic) and your conversions, and it pays to keep close attention to this.
Now, we know what you are thinking, that you have already spent time optimizing your site's Page Speed score, and things are looking really good. And that is great. But when was it?
These metrics can change over time for a number of reasons.
Maybe someone on your editorial team went and replaced your blog post's images with new ones but forgot to optimize them, and now they have large file sizes that are slowing down these pages? 
Perhaps your server isn't performing as well as it was when you last analyzed your site's speed.
The fact is that these things can change over time, so it pays to keep a close eye on your site's speed. 
You can easily keep on top of these issues using the Semrush Site Audit tool, running regular crawls (we suggest weekly) that will highlight any pages deemed to be slow.
Specifically, you can dig deep into the site performance report to see insights on speed.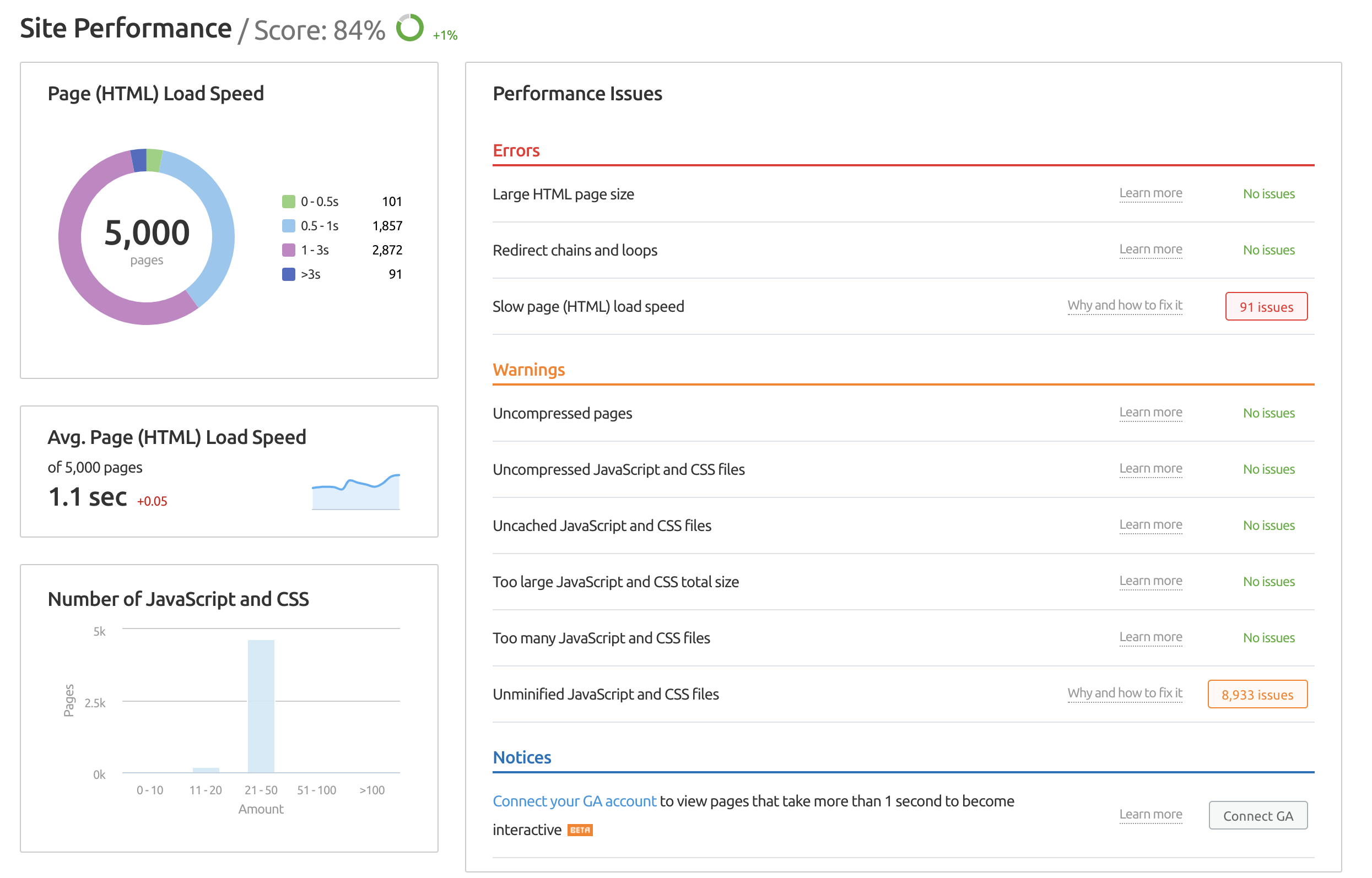 You can then act on these as they become an issue; rather than suffering as a result of poor page speed.
---
Setting and measuring SEO KPIs can help you to keep your efforts focused and continually measure the performance of your campaign.
While every marketer has their own KPIs that they need to track and report on to key stakeholders, the fact is that you need to have these in place and regularly be analyzing your site's performance against them.
KPIs can help to keep your growth on track whilst acting as an indicator that you see progression against your wider goals.